My Testimony of Healing Through Prayer
July 11, 2007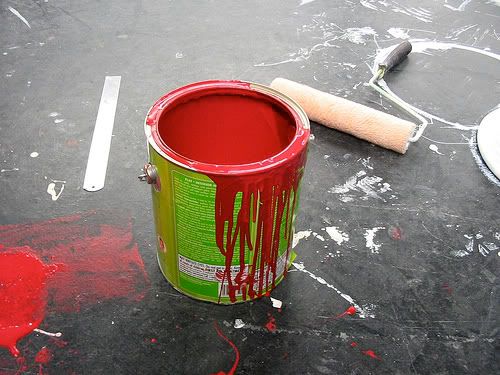 Red Stripes        
CANCER. I am no longer afraid of that word. Now it's quite neutral. But it wasn't that way when I was twenty-seven. 
A dozen black phones marched their way along the third floor window wall of Business Spaces By Design, my second interior design job downtown. The handset nearest my workstation was ringing, so I pushed away from my drawing board and stepped across the aisle to the windows to answer. As I reached for the receiver, I looked down to Fifth Avenue below. I could see an endless ribbon of one-way traffic inching its way south past our tan Italian Revival-style building.  
Looking west across the street toward the bay, I could also see Raintree Tower, an aluminum-clad contemporary office building that soars magnificently above pedestrians on its flaring pedestal base. Frequently, I crossed Fifth Avenue to have lunch in Raintree Square's four story atrium, and I avoided the traffic by making my way under the street through a winding duct-filled tunnel. I enjoyed sitting at the tables by the railing on the mezzanine level, because right in the middle of the main floor below was a polished grand piano for anyone to play. The strains of music that filled the spacious atrium space were often quite beautiful.  
"Hello," I spoke into the receiver. The nurse from my internist's office was kind. "I am sorry," she said. Your pap smear came back from the lab. It is a Class IV. You'll need to make an appointment with your gynecologist to schedule a conization. The surgery will tell us how far the cancer has penetrated into your cervix."  
I was stunned. Cancer? Me? Was it true? Cancer? And why there? Why not the tip of my nose or the end of my little finger? Anywhere else but there. It was embarassing to tell people. The results of an office biopsy performed by my OB/GYN a few days later confirmed the bad news. Spelled out quite clearly in the lab report was my diagnosis—carcinoma in situ. 
I was on the Pill. Almost newlyweds, Karl and I had been married four years. We had no children and I was alarmed. What did this mean? Would I need a hysterectomy? Could I die from this?  
Suddenly, I felt overwhelmingly isolated. It was as if I was imprisoned in a revolving glass door—I could see and hear people on the other side, but we couldn't touch. Even though I wasn't suffering any physical symptoms, for the first time in my life, I knew how people who were seriously ill felt: cut off, profoundly alone, and terrified. I might even have to face an early death. I began to grieve. It was a revelation. I knew the living grieved for the dying, but I had never known that the sick and dying grieve too. How could I ever say good-by to the people I loved, and to Karl? 
I scheduled my conization surgery and continued going to work. However, I found myself unable to think very clearly. I aimlessly slid my mayline straight-edge up and down my drawing board and ceaselessly adjusted my black luxo lamp. All I could do was pray.  
Luckily, new projects in the office had dwindled to a trickle. The following Monday, the principals of our firm called a meeting. Would all of the architects and designeres would be willing to take two weeks off without pay? Yes! I thought. Perfect timing. I knew I could use the free time to strengthen my faith for healing, and to ask others to pray for me too.  
Later, as I was pacing around our small ground floor apartment, I caught my reflection in our hall mirror. Looking into my own eyes, I asked myself the question, "Will I be healed?" From somewhere faraway inside me came the reassuring reply: "I have heard your prayer." Immediately, my fears began to subside, and my faith began to grow. 
My friends prayed for me at church and we continued to pray at home. Even my gynecologist, who was a Christian believer, took my hand and prayed a simple prayer with me in his examining room.  
The night before my surgery, while I was lying in bed, I was reminded of a Bible verse which says, "By his stripes, you have been healed". (I Pet. 2:24) The verse is in reference to the thirty-nine lashings Christ received prior to his crucifixion. So I began to repeat the verse over and over, as a kind of meditation.  
At the same time, I started to visualize Christ's painful ordeal: one lashing, ow. Two lashings, ah. Three lashings, ugh. Four, five, six, and on I went until my mind's eye was completely filled with the vision of Christ's red, bleeding back.  
Suddenly, I felt a painful burning sensation deep inside my pelvis. I was alarmed, but an inner voice urged me to continue praying in this way. Still feeling pain, I carried on with my prayer while continuing to imagine Christ's horrific scourging—thirty-two, thirty-three, thirty-four, all the way to thirty-nine lashings. Eventually, the burning sensation in my pelvis subsided. As I drifted off to sleep, I was convinced I had been touched by God in a special way. 
Around noon the next day, the hospital staff wheeled me into post-op after my surgery. My gynecologist approached my gurney, wrapped me in a heated blanket, and gave me a sweet smile. "We couldn't find any cancer," he said with tenderness in his voice. "We took a small biopsy which we'll send to the lab for confirmation. We'll know for sure in a day or two." No cancer? I was humbled. And deeply grateful. Indeed, a few days later, the lab report came back with those four wonderful words: no evidence of malignancy. I had been miraculously healed. 
What does one do with one's life after an experience like that? How was I to live after facing a serious illness, potentially the loss of my ability to bear children, and possibly even death? And how could I avoid a re-ocurrance? What caused the cancer in the first place?  
First, I knew I needed to rededicate myself to a life of loving service to God. "The things you have learned and received and heard and seen in Me, practice these things; and the God of peace shall be with you." (Phil. 4:9) was the verse that spoke to me from my study of Scripture. I had been given the gift of life, and I wanted to give it back to Him.  
Also, I immediately stopped taking birth control pills because I suspected there might be a link between the hormones and my cancer. Later, I read that statistics indicate that half of all women whose fathers had died or deserted their families suffer cervical dysplasia or cancer. That certainly rang true for me.  
Finally, I began to study nutrition. I learned that there were many foods such as cruciferous vegetables like broccoli and cauliflower, and unrefined whole grains that contained cancer preventing compounds. Also, I began to exercise regularly and take multivitamin and mineral supplements. Soon I felt better than ever. 
I feel extremely blessed. I've been cancer-free now for twenty-five years.
Note: If you're new here, please visit my main blog, Chrysalis. This post is adjunctive to my current post, "Praying Beyond the Sick List." See you there!  
Blessings, e-Mom
Photo Credit: Chris Campbell (Flickr)